Set among lush acres of landscaped gardens you'll find Fairlawns Boutique Hotel & Spa, an urban sanctuary right in the heart of Johannesburg. With close attention to detail and exceptional service, Fairlawns creates an intimate atmosphere where some of the globe's most vibrant personalities converge. The chic, upscale suites are individually decorated in varying themes ranging from Eastern influence to French provincial, each featuring every desired modern amenity. The hotel also caters to a variety of culinary tastes with an array of elegant dining experiences to choose from.
Located in Johannesburg – South Africa's largest city and gateway to the rest of Africa – Fairlawns is situated just 6 km from central Sandton, and 20 km from the Johannesburg city centre to offer the upmarket traveller a delicate mix of luxury and convenience.  Established in 1997, Fairlawns, or "FBH" as it's come to be affectionately known by Managing Director, Michael Kewley, is a property proud in heritage and character. Previously a luxury private residence, it is only fitting that the property has transformed "herself" into the stylish hotel, with an air of eclectic sophistication, that Fairlawns is today.
Grand Chateau Suite – (20 Suites)
These 20 suites are the latest addition to the hotel with two interleading rooms. Again, in true Fairlawns style, each room is individually decorated, echoing the original ideas of the Courtyard and Villa suites, yet with a modern contemporary twist. The building process and day to day energy preservation was a key factor considered in the building of this new wing of the hotel. The public area on both levels creates a cosy atmosphere with lounges and large sandstone fireplaces. A lift provides easy access to the second level, and the environment is wheelchair friendly.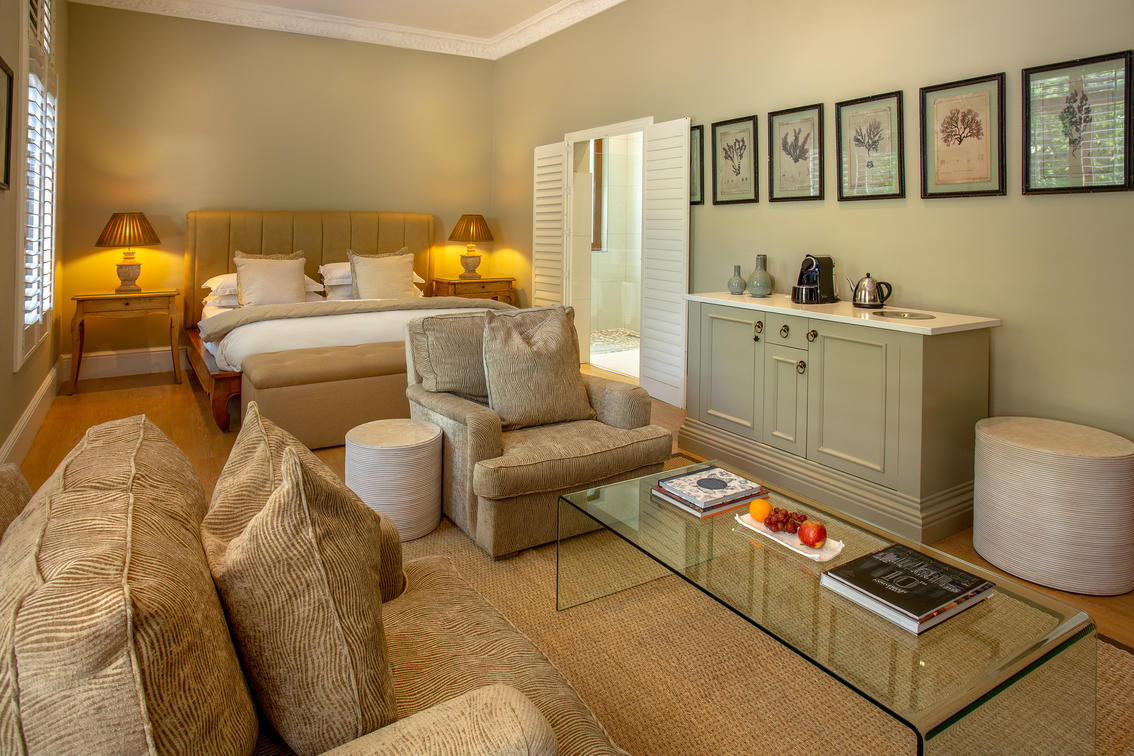 Courtyard Suites – (12 Suites)
These 12 newly refurbished Courtyard Suites are so called as the U shape of the Palladian buildings form an elegant courtyard graced by a formal garden. These Suites are all individually decorated, 60sqm suites with beautiful hand-painted techniques, high corniced ceilings, sumptuous fabrics and custom made classical furniture. The spacious bathrooms are fully equipped with granite vanities, large separate showers and baths. Working fireplaces enhance the romanticism of the suites.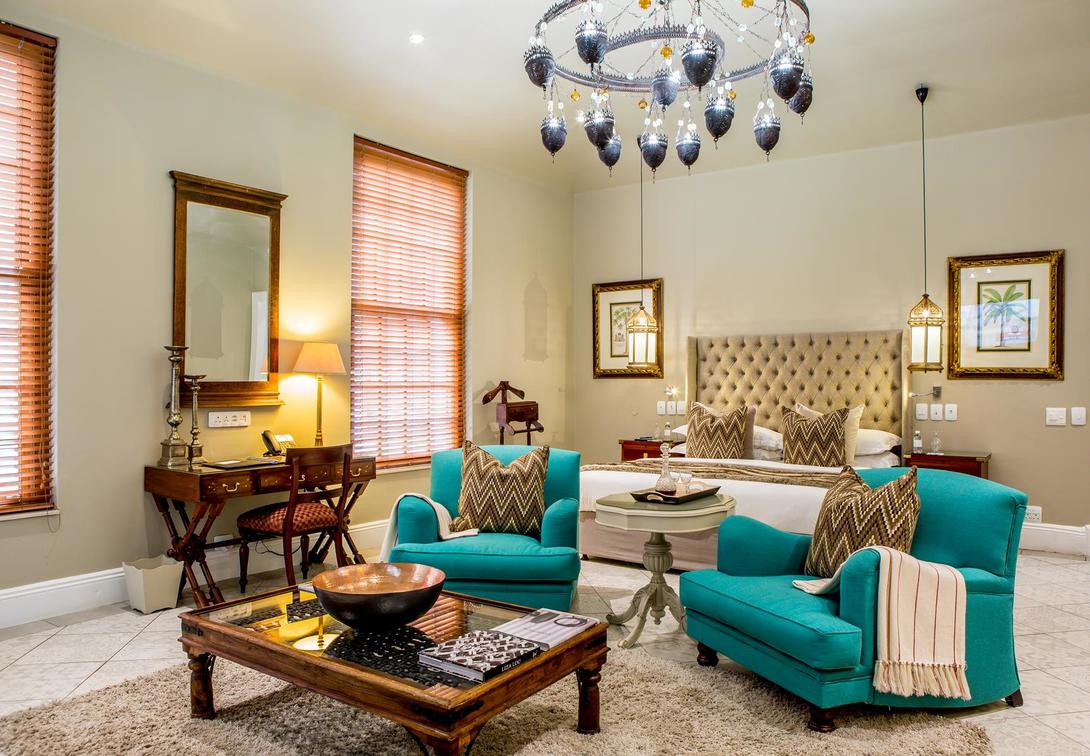 Villa Suites – (6 Suites)
Unlike the Courtyard Suites, the 84sqm Villa Suites relate to some aspects of South African history and honor such distinguished men and women as Emily Hobhouse, Jan Smuts, Nelson Mandela, Harry Oppenheimer and Mahatma Gandhi. Three of the suites have balconies, the others open onto an oak-shaded terrace. Some have guest cloakrooms, all but one have separate lounges, and all are equipped with double basins, bidets, separate showers and jet baths, towel warmers, as well as under-tile floor heating in the bathrooms and all with working fireplaces.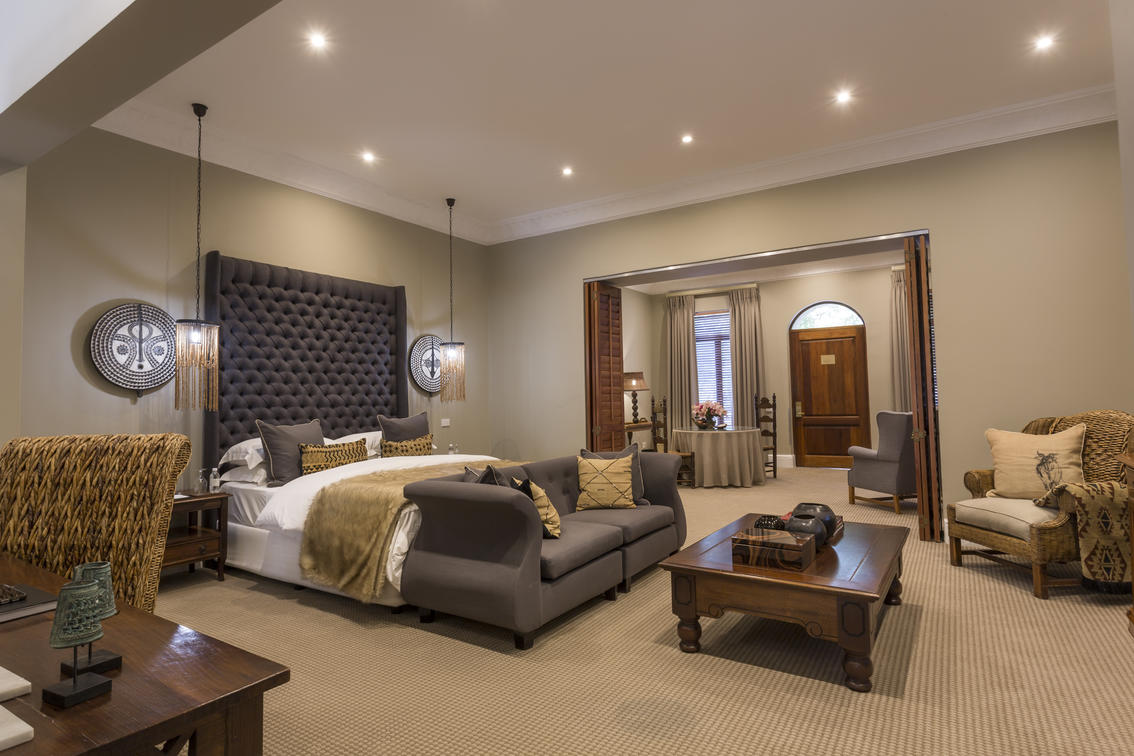 Maison Spa Suite – (3 Bedroom Villa)
Previously known as the Presidential Suite, this elegant 240sqm residence comprising 3 bedrooms, a study, a kitchenette, guest cloakroom, dining room and lounge, as well as a separate private entrance. The main bedroom boasts a huge bathroom with a 1.8m diameter jet bath, steam shower, separate toilet and bidet, large walk in closet. There is a balcony overlooking the gardens and pool as well as a Juliet balcony in the second bedroom. Ideal for families or dignitaries travelling with staff or wishing to entertain privately.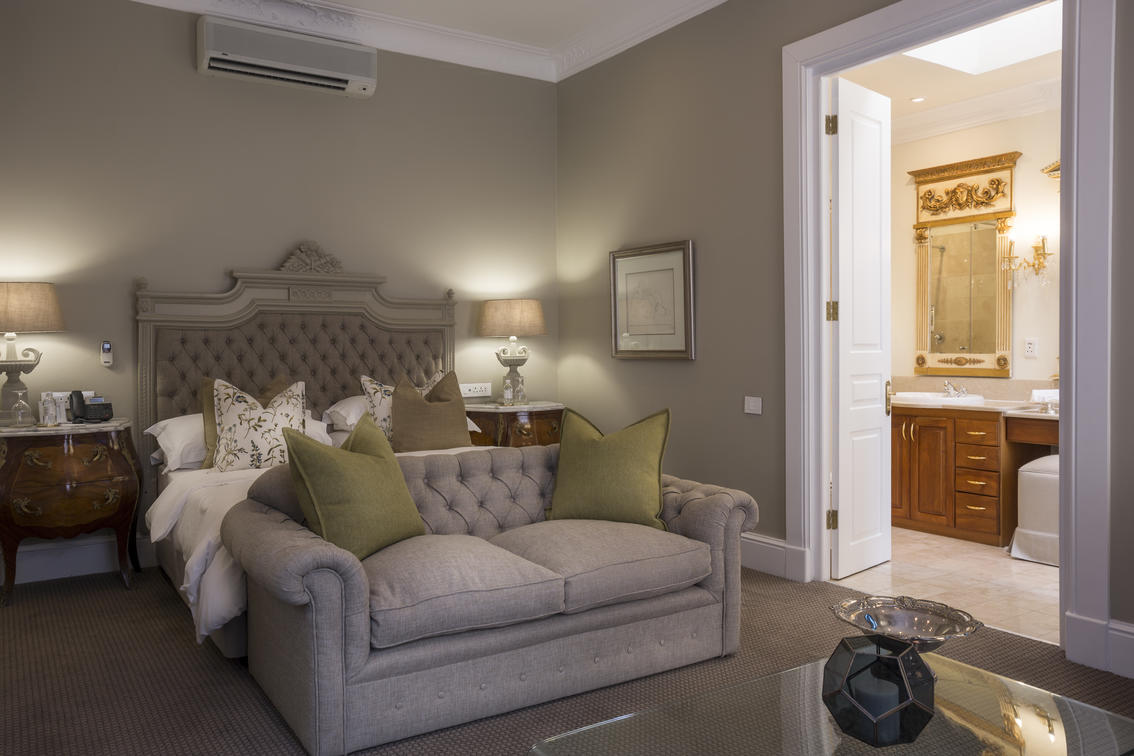 Villa Moji – (3 Beroom Villa)
Previously known as Maison de Ville, this private villa residence is one of the most beautiful, romantic and exclusive private hotel villas in Johannesburg. Historical touches, fine art collection, Persian carpets and molded fireplaces set the mood with glass doorways opening from the three suites onto the private gardens, heated swimming pool, alfresco dining room and lounge, the perfect setting to enjoy the sunsets and fine Johannesburg climate. With all the luxuries and services of the hotel this magnificent private villa, your home away from home, once you have checked in you will not want to check out.
Tree House Studio – (2 Studios)
Named for its positioning in the treetop canopy, this two bedroom family suite is the latest addition to the Fairlawns offering. With its state of the art kitchen, lounge and dining room, this suite is ideally suited to longer family stays.
Amuse-Bouche Food and Wine
Dining at the Fairlawns is designed to be elegantly smart casual. The candlelit tables and soft music give an enchantingly intimate and romantic atmosphere to the Italian influenced décor of the terrace restaurant. The finer details like beautiful linen, crockery and silver cutlery are however, an integral part of the experience. Amuse Bouche boasts an exquisite menu, paired with our Diamond Award Winning wine list
Manor House Bistro
Manor House Bistro features more casual, al fresco dining, in a contemporary setting that caters to eclectic tastes. The restaurant is elegant, yet still homely and welcoming, and features some of your favourite café style meals. Not to mention the Strawberry Daiquiri tea trolley serving decadent sweet treats.  Partake in a classic, with morning and afternoon tea served daily. You can also indulge in Champagne or sparkling wine served by the glass.
The Terrace
Experience a haven of tranquility as you overlook lush rolling lawns from the Terrace while enjoying your meal or sun downer.
"Into the Woods" Private Dining Room
Into the Woods', our private dining area, offers a memorable experience for up to 12 guests under a chandelier in a recreation of a Birchwood forest environment.
Spa at Fairlawns
Rejuvenate, relax and restore in the exquisite bamboo forest gardens of the Balinese-style Spa at Fairlawns. With a range of therapies and signature Asian-inspired treatments, a team of skilled therapists are able to bring you back to a state of calm and natural well-being. Five indoor treatment rooms with enhanced mood lighting set the scene for your journey to relaxation and restoration. The Balinese Gardens are the perfect space to catch your breath after your massage. Featuring a heated plunge pool, Knipe Therapy, spa bath and hidden escapes on a Chinese daybed or pod swing chairs, it is an oasis to disconnect and refresh. Three outdoor treatment salas accommodate groups of two and more. Choose from a variety of facials for gentlemen and ladies, travel therapy treatments like a Jet Lag Massage, or the perfect manicure and pedicure combination.
High Tea
Discover heartfelt hospitality and elegance in the Manor Bistro lounge with windows opening out onto the gardens, serving daily classic afternoon tea. An ideal spot to dine on light meals, and ogle the cake trolley, inspired by the Ritz in London, this is also fast becoming very popular with events. Partake in a classic, with morning and afternoon tea served daily. You can also indulge in Champagne or sparkling wine served by the glass. High Tea is served from Tuesday to Monday, 11h00 to 17h00.